Waterside Presents Newsletter

Waterside Announces New Releases and Other News
Sign up to get the newsletter here!
Waterside Presents
May & June 2020
Bill Gladstone's Power of Publishing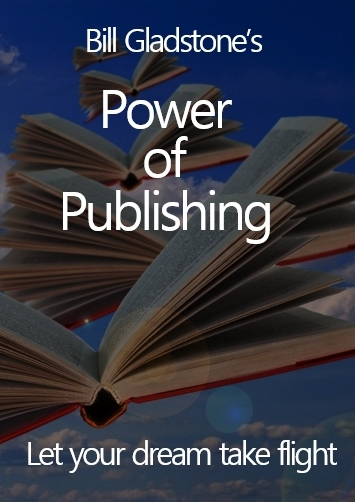 Always wanted to write a book but have no idea where to even begin?
Millions of books are written every year, most of them by first-time authors. Writing a book is not easy, but it's a whole lot easier when you're learning from those who have mastered the art of writing and publishing great books.
If you could have access to the most successful literary agent for first-time authors in the history of book publishing, what would you pay for that introduction?
If you could have a meeting with the agent for Eckhart Tolle, what would you ask him?
For the first time ever, all you need to know about writing and publishing your first book is available to you, without leaving the comfort and safety of your own home.
Sign up today to get exclusive access to Q&A Power Tips from renowned Super Agent & Publisher, Bill Gladstone.
Get answers from Bill as he responds to your most pressing questions about writing your breakthrough book … and getting it published!
Here are just a few benefits of writing a book:
Books are selling more than ever during this unique moment in human history.
Your business will profit from writing a book about your product or services.
A book can open an entirely new business for you.
If you want to change the world or start a movement, a book will help you make a difference.
If you want to pass along your life story, work legacy, or life lessons, you can immortalize them in your book. Isn't it time to get that book out of your head so you can share it with others who need to hear what you have to teach and share?
Now , more easily than ever, you can learn from the experts who have taught some of the greatest writers of our generation. Get the Q&A Power Tips from Super Agent & Publisher, Bill Gladstone… and start planning your publishing journey today.
WATERSIDE AND FRIENDS IN THE NEWS
New Waterside publications and Waterside author media appearances and accolades
Emotional Brilliance, New by Cathy Greenberg and Relly Nadler
#1 Hot New Release
#1 New Release in Business Operations Research
Emotional Brilliance™ is your most powerful tool to create and maintain your healthy internal balance. It is the foundation for ALL your external success in both your professional and personal life. World-renowned leadership experts and best-selling authors, Dr. Cathy Greenberg and Dr. Relly Nadler have joined forces during this world crisis to provide the road map to guide you on your journey through uncertain times.
HUMANUAL, New by Betsy Polatin
HUMANUAL is a unique and comprehensive approach to self-knowledge and self-improvement, offering a clear, concise, and rather simple set of explanations and exercises to facilitate understanding and unity of body, mind, and spirit. Many of us have lost our connection to ourselves and the planet. This causes discomfort. We have a wealth of resources inside of us that we can learn to use to our advantage to access healthy patterns of movement, breathing, and stress management.
The Likely Future Volume 1, New by Penelope Jean Hayes, with Carole Serene as Channeler
THE LIKELY FUTURE is an urgent message from the Divine Source about COVID-19 the greatest plague of our time. In this channeled writing, the Source goes by "Pax."

THE LIKELY FUTURE gives insight that cannot be found anywhere else. Pax answers direct questions and provides vital information including the coronavirus origin, that a successful vaccine will be a long time coming, and what scientists should consider in order to fully eradicate the virus.
This dialogue is the truth we've been asking for, the clear warning we need, and a celestial love letter that speaks to each of us and the future of humanity. It's provocative and awe-inspiring—and it's what people around the world need to know about this pandemic.
To learn more, visit PaxWisdom.com.
The Likely Future Volume 2, New by Penelope Jean Hayes, with Carole Serene as Channeler
This text is a continuation of the first volume of THE LIKELY FUTURE; a collection of briefings from the Divine Source providing critical insight that cannot be found anywhere else about COVID-19. In this text, the Divine Source—"Pax"—addresses the global coronavirus crisis through channeled writing.
This volume addresses topics originating from the author's consciousness, subjects presented in the news media, and various themes not previously considered, all having occurred within a two-week time period: the last week of April and the first week of May 2020.
Pax provides vital information including the assertion that the coronavirus is linked to both fear and growth hormones—and that the cure will be in the form of a neurological interrupter—while offering words of warning and wisdom to political leaders around the world.
This is the alternative source.
Project ONE, New by Alison Storm
Project ONE, channeled at the turn of 2020 is an encoding of a new inner technology. The Forces behind Project One have given us back to ourselves. It is time to come into alignment with a true destiny that has alluded us for ages. This is a blueprint for the new human, as it takes you through a comprehensive protocol for your healing and to release the distortions you have been subjected to. This will come through God and Free Will, as you gain access to energetic codes that will support your healing. On these pages you will find energetic encodings in the words, which function as a tool to the realization of the profound nature of human embodiment.
Power of Proximity, New by Greg Reid, Bonnie Fallin, and Sharon Parsons
More than what you know, it's who you know. The Power of Proximity reveals that everyone is just a few degrees of separation from finding true success and fulfillment. Follow along in this parable of personal and professional growth as Meredith Grant, a single mother and struggling insurance professional, connects with her mentors, who share their wisdom and experience. Like Meredith, one connection at a time, you will benefit from their knowledge and counsel … and discover that the real power of proximity is just one person away.
The Request, New by Kent Walker
Carl's parents are killed the day before summer vacation. Sally is a victim of a painful past. Two very different lives merge in the wake of the tragedy.
Fulfilling Sally's final request, Carl reflects and understands by confronting her demons she saved him, and he taught her how to live again.
Written in a style similar to The Notebook and Manchester by the Sea, The Request will bring the reader smiles, tears and a new appreciation for the human spirit.
Therapy for the Sane by
Lou Marinoff,
Republished by Waterside
Professor Lou Marinoff's first book--Plato Not Prozac--drew on the wisdom of the great philosophers to solve our everyday problems, launching a global movement that restores philosophy to what it once was: useful in all walks of life.
In this sequel, Therapy for the Sane, he takes the concept to the next level, applying centuries of philosophy and iconic literature to help answer central questions of modern and postmodern existence.
Leadership for the Greater Good, New by Azim Khamisa
To address society's most daunting challenges, today's leaders need three things: (1) to be brilliant in their professions, (2) to work to create effective, viable, and affordable solutions to societal ills, and (3) have strong moral, ethical, and spiritual values.
This triad of competencies is critical to tackling the current degradation of society. As you ponder these attributes, how many leaders come to your mind? Read to meet such exemplary unsung heroes
Bio-Touch by Debra Schildhouse, Republished by Waterside
Bio-Touch: Healing with the Power in Our Fingertips describes a unique touch-healing technique that anyone can learn. It has been scientifically proven to alleviate pain, stress, depression, and symptoms of disease.
Debra Schildhouse is drawn to Bio-Touch after her daughter suffers from a mysterious illness. Learning to heal others launches her own inner journey of personal healing as she becomes a certified practitioner of Bio-Touch.
Schildhouse relates miraculous stories of healing and the human spirit.
The Fertile Feast, New by Dr. Robert Kiltz
During a career spanning more than two decades of helping people conceive over 20,000 babies, Dr. Robert Kiltz learned that for most people, the most important thing in this universe is creating life. Yet, all too often he witnessed the sad truth that Western medicine doesn't work on its own. The failure of Western medicine drove Dr. Kiltz to integrate approaches to health and wellbeing that treat the whole person, body, mind, and spirit, eventually leading him to a radical discovery that revolutionized his practice: The foundation of our health and wellbeing, and therefore our fertility, is actually the food we eat.
Mr. Umgawa's Pumpkin Tree, New Joseph McIntire
Joseph McIntire is a research physicist turned poet who found the beauty of storytelling. Joseph is an adventurer and climber whose adventures have taken him on four treks through the Himalayas and also the outbacks of Alaska. Retirement provided him more time to write and in his latest book, Mr. Umgawa's Pumpkin Tree, he writes about a treasured story of tradition in the small town of Good Grief, Idaho. It will capture both child and adult's imaginations.
Reboot to Interfaith, New by Rev. Dr. Stephen L. Albert
In REBOOT to INTERFAITH, Rev. Dr. Stephen Albert, the Director of the World Interfaith Network and creator of Interfaith Awareness Week a yearly, week-long, world-wide celebration, shows the reader that Interfaith is not a new religion but, instead, a WONDERFUL HUMAN EXPERIENCE.
In simple, easy to use terms, he lays out how to REBOOT yourself to Greater Peace & Harmony within yourself, your family and with the strangers you meet.
Love Is Greater Than Pain, New Waterside Agented Title by
Marilyn Kapp
In Love Is Greater Than Pain, Marilyn shares her profound understanding of the afterlife. Today a renowned medium, Marilyn reveals the beauty in the transition from the physical to the spiritual plane, helping those who are dying, as well as those left behind. With personal stories and transcripts from channeling sessions, Marilyn teaches us how to interact with the afterlife and to joyfully embrace the reality that love truly is greater than pain.
This title is agented by Waterside's Jill Kramer.
The Business Case for Diversity & Inclusion
New Article by Marilyn Tam about Diversity in the Workplace
As a major literary agency and book publisher, Waterside's mission statement is "helping authors and publishers publish and distribute books that create a better world." In times of crisis and disagreement, it is best to focus on facts and ways we can help each other even if we are not in universal agreement. One of our most brilliant authors and business leaders, Marilyn Tam, has written an important article that provides the facts and logic why honoring diversity is not just the right thing to do but right for business success. Please access this link and share with as many of your associates and colleagues as possible. Now is time for unified and thoughtful action.

© 2020 Waterside Productions, Inc. All rights reserved