Marilyn Tam | 04/27/18 | Business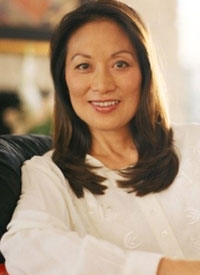 Marilyn Tam grew up to her mid teens in a traditional Chinese family in Hong Kong. She left home to come to the USA alone without finishing high school to enter University, which she completed quickly with a master's degree in Economics. Rejected by World Health Organization (WHO) because she did not have the requisite ten years work experience to join when she graduated, she pursued a career in the corporate world and incorporated her humanitarian work into her everyday work and life.
She rose meteorically in the international business world to become an influential corporate leader, speaker, corporate consultant, author and respected humanitarian.
In her corporate career, she was successively Vice President of Nike Inc., President of Reebok Apparel and Retail Group and CEO of Aveda Corp. Marilyn founded Us Foundation in 1996 to facilitate global action and dialogue on social, economic and environmental issues (www.usfoundation.org) She is also an entrepreneur, having developed and built four companies–a corporate consulting & training company, a web portal company, a supply chain software company and an integrated healthcare company.
She is a national Director and the Chair of the Nominations and Governance Committee of SCORE Association, a Partner of the U.S. Small Business Administration. SCORE consults with close to 500,000 businesses a year, staffed by over 13,000 volunteers in 378 offices.
Her first book, "How to Use What You've Got to Get What You Want", is published in English, Chinese, Japanese Spanish and Indonesian. In the book, she combines her business acumen with her goal of giving back, to guide others to achieve their highest potential and dreams (see www.HowToUseWhatYouveGot.com).
Because of her broad and deep experience, Marilyn is sought after as an expert and speaker in many areas–from leadership and diversity to life balance and health issues.
Marilyn was recognized as one of the Top 30 Female Entrepreneurs in the USA by Fempreneur magazine. Jack Canfield detailed her work in his book on the strategies for success, "The Success Principles". She is featured in the best selling book, "Fearless Women, midlife portraits" by Alspaugh, Kentz, and Halpin among many other books.
She starred in several documentary movies as an expert and inspiration for others, including GLOW Project, The Compass, Tapping the Source, Vitality and The Lost Message.
She has received many honors including the Artemis Award for her business and humanitarian work by the Greek government and the Euro American Women's Council in Greece, with her likeness on a Greek postage stamp, a Lifetime Achievement Award from eWomenNetwork and an honorary Doctorate from Old Dominion University.
Living the Life of Your Dreams–The Secrets to Turning Your Dreams into Reality is Marilyn's latest book (July 2011) to contribute to the well being of everyone who wish to live their ideal life. For more information, email info@HowToUseWhatYouveGot.com. You can read more about Marilyn and her work at www.HowToUseWhatYouveGot.com.