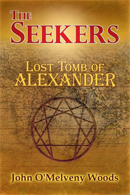 News Release for Waterfront and John Woods 1.0
Immediate Release
WATERFRONT DIGITAL PRESS AND AUTHOR JOHN WOODS ANNOUNCE A PUBLISHING PARTNERSHIP FOR THE TEN PART BOOK SERIES THE SEEKERS
Waterside Productions inc. launched Waterfront Digital Press in order to serve a need for its authors that traditional publishers did not address: How to get a book formatted, published and sold directly to the public on a smaller scale than large traditional publishers offer?
And how to do it affordably.
Author John O'Melveny Woods, whose previous works include the award winning book Return to Treasure Island, and Jesse James Secret, the basis for the hugely successful History Channel show Jesse James Hidden Gold, found what Waterfront digital and the services and connections they offered were exactly what was needed for his next series of books – The Seekers. His first book, The Lost Tomb of Alexander, is being released July 1st.
"Waterfront Digital and Bill Gladstone seem to have a very real and innovative program for authors that helped me get my book up and running in a short amount of time and with very little effort," author John 'O'melveny Woods relays. "Since most books are going digital, they have a program that gives the author the lion's share of the proceeds, a truly innovative and progressive idea in publishing."
"We have four New York Times bestselling authors who are initially going with our digital initiative," Bill Gladstone, tells us. "We put ourselves in the artists' position and asked ourselves how can we help them get their work out there," He continued. "Waterfront Digital was the answer.
"We, with Amazon as our partner, completely take over the books as far as formatting, and getting it loaded onto their system," Bill says. "In this way, we can save authors hundreds and even thousands of dollars, while still offering a professional look and feel to the end product."
Author John adds: "Working with Bill and his team at Waterfront Digital has been a wonderful experience. I would highly recommend other authors use their services. My book looks as good and, in my opinion, better than a major publishing house would have done. And the best part? More money from every copy comes back to me.
Waterfront Digital Press can be contacted at: 760-632-9190.